Private James, Foch (Jimmy) McIlroy
Family/Last name:
McIlroy
Forename(s) and initial(s):
James, Foch (Jimmy)
Place of birth:
New Zealand
Date of birth:
13/12/1918
Date of capture:
1/6/1941
Data sources
The National Archives (UK)Other Sources (WO416 records transcribed by and held at the UK National Archives. Data processed and prepared by Rick Catt and Brian Cooper + Relative's report)
'Jimmy' worked in the forest. He passed away on the 19-07-1993. He completed the Long March and flew back from there in the bomb bay of a Lancaster bomber.
Here is:
The New Zealand Defence Force covering letter to his military records: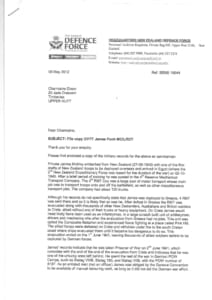 and his record held by the ICRC
Suggest an improvment to this record
https://www.prisonersofwarmuseum.com/wp-content/uploads/2021/04/pow-logo.jpg
0
0
joe
https://www.prisonersofwarmuseum.com/wp-content/uploads/2021/04/pow-logo.jpg
joe
2023-03-07 02:22:06
2023-05-29 17:00:08
McIlroy, J