Blechhammer Synthetic Oil Refinery maps
The Refinery was in two parts,  Blechhammer North, and Blechhammer south, approximately three Kilometres apart.
---
Below, shows the layout of Blechhammer North
---
Below, shows the layout of Blechhammer South
---
During 1942 the refinery was expanded using prisoners of war of many nationalities. Several POW camps were built.  At the northern end of the refinery was BAB21 and E3 built alongside the Adolph Hitler Kanal.  At the Southern end was BAB20 at Riegersfeldt [now Bierawa] other camps involved were BAB40, BAB48, E6, and E16.
Map showing the location of the camps
Key to the Camp numbers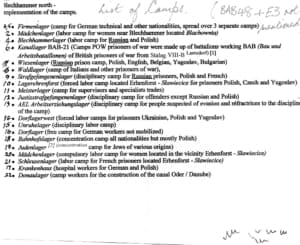 Personnel were added to the POW camps from 1942 onwards, during 1943 prisoners from the Italian PG camps also were also prisoners here.
Toward the end of 1944 the refinery became a top target for the USAF and was bombed heavily.
https://www.prisonersofwarmuseum.com/wp-content/uploads/2021/04/pow-logo.jpg
0
0
Keith
https://www.prisonersofwarmuseum.com/wp-content/uploads/2021/04/pow-logo.jpg
Keith
2022-06-10 10:57:59
2022-06-22 19:09:04
Blechhammer Synthetic Oil Refinery maps